The City of Bruck an der Mur in Styria
The City of Kornmess and its History
The main square in Bruck an der Mur with its wrought iron well, and the Kornmess Residence as a backdrop, are just some of the numerous sights in the centuries-old city of Bruck an der Mur worth seeing. Settlement activity dating from the Stone Age is evidenced (tools were found in what is now the part of town known as Pischk) and in the 3rd century A.D. the first permanent settlement was established near what is now Bruck, close to the Mürz estuary with the Mur. Being located on the Roman road, the settlement of "Poedicum", as Bruck was known then, gained in importance. Parts of the Roman road may still be seen today near the Roman Bridge in the part of town known as Oberaich.
Bruck is first mentioned as "ad pruccam" in a document dating from 860 A.D. and was first declared a city in 1263. At that time the arrangement of the streets in the city center was planned and many remain the same today as they were over 750 years ago! In the centuries to follow Bruck an der Mur gained more and more importance through trade (the shipping industry on the Mur, salt trade). The gothic architecture of the Kornmess Residence (its present structure built at the end of the 15th century), named after the tradesman and burgher of Bruck, Pankraz Kornmeß, is a visible representation of the city's affluence in the past. The Great Fire of 1792 destroyed nearly every building in Bruck an der Mur and the years following were marked both by reconstruction and the suffering of the civilian population during the ensuing Napoleonic Wars.
The Kornmess Residence, a historic building in the City of Bruck
The 20th century was overshadowed first and foremost by the conflicts of the working population with Austrofaschism, causing Bruck an der Mur to become one of the major arenas for the Austrian Civil War, which took place in February of 1934.
After the end of the Second World War in 1945 the city emerged as one of the main driving forces in the industrial development of the country, and was soon able to regain its position as the most important city in the heart of Styria. Bruck an der Mur became the administrative center of the region, while enjoying the subsequent boom in trade and industry.
Over the past few years, and having been affected by the crises in the industrial sector during the 1980s and 1990s, the city has been reestablishing itself as a residential town, a center of services and leisure time activities. A great number of tourist facilities and events have since been set up; the regional offices of the regional tourism association, Hochsteiermark, recently relocated here. Hence Bruck an der Mur is undergoing a transformation from a wealthy trading town to a residential town, a center of services and a place to feel fine in the heart of Styria.
recommended reading: Christa Fuchs, Geschichte und G´schichterln aus Bruck (History and Tales of Bruck), 2nd edition, 2014
film recommendation: Bruck an der Mur – Geschichte einer Stadt (History of a City): the film
© TV Bruck/Mur, picture: M. Maili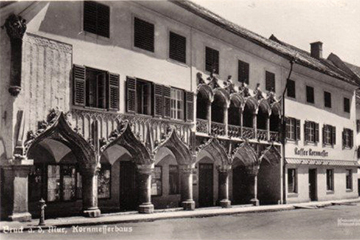 © Stadtgemeinde Bruck/Mur, picture: archive of the city Bruck