The Kornmess Residence on the main square in Bruck an der Mur
Is among the most exquisite secular buildings of the late Gothic period in Austria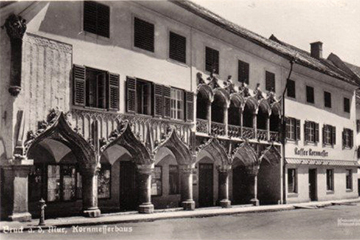 © TV Bruck/Mur, picture: archive of the city BruckThe Kornmess Residence on the Koloman-Wallisch square in Bruck, with its magnificent façade harking back to Venetian architecture of old, is among the most exquisite secular buildings of the late Gothic period in Austria.
It was built between 1495 and 1505 for the hammer mill tradesman Pankraz Kornmeß, whose family had been influential as building contractors and patrons in the city of Bruck an der Mur since the 14th century.
The Kornmess Residence on the main square is the landmark of Bruck an der Mur, which is why Bruck is referred to as The City of Kornmess.