Culture in the City & in the Countryside
The City of Kornmess, its sights and events; and the region surrounding Bruck an der Mur
Thanks to its long-standing tradition as a commercial hub and administrative center of the region, the city of Bruck an der Mur has always been the cultural heart of the northern part of Styria between Semmering, Graz, Mariazell and the Mur Valley.
Culture: You're in for a treat whether you are talking about events such as the Joseph Haydn Orchestra's concerts in the Church of the Minorites, or the Bruck collective concert Music Night taking place throughout the downtown district; whether you're checking out the stand-up comedians performing at the attic theater Dachbodentheater or the cultural initiatives of Kultur im Glanz(graben); whether you're enjoying the internationally renowned travelling entertainment festival Murenschalk or one of the jazz brunch concerts in the Cultural Center or a Jazz am Murradweg concert at the parsonage in St. Dionysen.
The City of Kornmess will delight you with its remarkable historical city center and the numerous cultural monuments there to discover. On top of that, its cultural program will leave you more than impressed.
The city
Bruck is first mentioned as "ad pruccam" in a document dating from 860 A.D. and was first declared a city in 1263.
Explore the Region
Being situated in the heart of Styria means that Bruck an der Mur is the ideal starting point for taking trips into the north and south.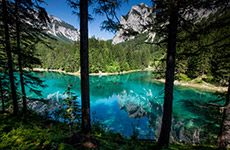 Green Lake
It is one of the most beautiful places in Austria and it is a protected nature conservation area.