Winter in Bruck an der Mur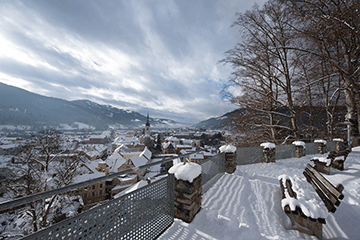 © TV Bruck/Mur, picture: K. Pashkovskaya
Ice skating, sledding and tobogganing, winter hiking, and snowshoeing and ski touring as well, right in the middle of the green heart of Austria.
There is even ice climbing – you can find it all in and around the City of Bruck an der Mur.
There are plenty of smaller and larger skiing regions close to the City of Kornmess; numerous cross-country skiing trails await the winter visitors.
Winter attractions - Our tips for your winter fun
Ice skating rink at the Murinsel Island in Bruck: Public skating at the ice rink from the beginning of November (dependent on weather conditions). Monday to Thursday: 2:00 to 6:00 p.m., Friday from 2:00 to 5:00 p.m., (evening skating: 7:00 to 10:00 p.m.), Saturday and Sunday: 2:00 to 6:00 p.m. The ice rink is closed all day on November 1st and on December 24th. The ice rink is closed in the mornings on December 25th, 26th, 31st and on January 1st. The ice rink is also closed in the afternoon on Shrove Tuesday (Mardi Gras). Ice skating season lasts until March. Contact: Ice skating rink Bruck, Murinsel 5, A-8600 Bruck an der Mur, Tel.: +43 (0) 3862 52 140
Sled run in Weitental, on the Rennfeld Mountain and at the Pierer Estate in Aflenz
Cross-country skiing trails on the Teichalm and Sommeralm alpine pastures, in Turnau, Aflenz, Hafning/Trofaiach and of course in Tragöß at Green Lake
Skiing regions Schwabenbergarena in Turnau, Veitsch, chair lifts at the Teichalm alpine pasture, Präbichl Mountain and Stuhleck Mountain (the largest skiing area in the HochSteiermark Region)
Ski tours in the Fischbach Alps, in the Hochschwab Mountain Range and in the mountains around the Mürztal Valley (Listen for avalanche danger announcements!)
Snowshoeing and winter hiking on the Hochanger and Rennfeld mountains
Ice climbing in the Almenland alpine pasture region, in Breitenau am Hochlantsch and in Tiefenbachgraben