Golfing in Bruck an der Mur, Styria
The best training conditions: For newcomers and Pros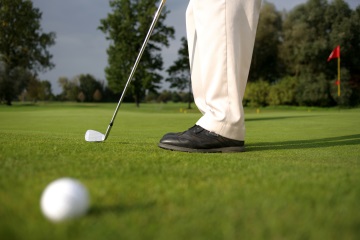 © Steiermark Tourismus, picture: H. Schiffer
The golfing facility in Bruck an der Mur (Styria, Austria) offers the best opportunities to practice away from the hustle and bustle of the giant golf courses. There are 12 covered teeing grounds with mats at the driving range and 30 grass tees available for you to practice and improve your long game.
There is a training bunker built according to the concept developed by golf course expert David Pelz at the pitching green located directly at the driving range, where you can practice and perfect your approach shots on the green. There is an 800m² putting green where you can work on your short game, something most of us often neglect. The most varied positioning of the holes lets you practice chipping and putting from all different angles.
A beautifully designed par 3 course lets beginners gain playing experience free from stress and helps the more advanced players to practice their short game. To make it all even more challenging, you can play by the official British Pitch and Putt Rules using two irons and a putter only.
Two PGA Pros are at your service at the golf school in Bruck an der Mur, helping you with consideration using the most modern teaching methods to learn the basics or perfect any aspect of your golfing skills. They respond to each golfer's needs with patience, doing their best to help you improve.
12 covered teeing grounds
30 grass tees
Short game area
Pitching green and a training bunker
A large putting green
9-hole par 3 course
PGA golf school
Open in winter
Floodlighting
Re-gripping & Repairing Golf Clubs
To be able to make sure you are holding your club safely with every swing, you need to have your club re-gripped from time to time. The golf facility Bruck an der Mur offers a large selection of grips: from putter grips to extra-soft ladies' grips. In urgent cases the clubs can be re-gripped on the same day. Repairs on golf clubs, such as replacing the shaft, are also carried out at the golfing facility in Bruck an der Mur.
Golfzentrum Bruck an der Mur
Am Golfplatz 1, A–8600 Bruck an der Mur
Information available at: +43 (0) 3862 53508
This email address is being protected from spambots. You need JavaScript enabled to view it.
www.golfbruck.at