Motel24seven: comfortable self-catering rooms
14 self check-in apartments and parking free of charge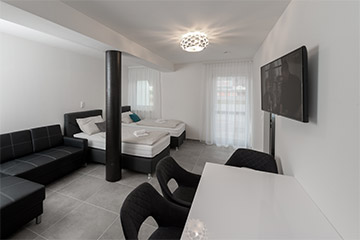 © Motel24seven, picture: KristoferitschThere are 14 apartments at Motel24seven largely equipped with a kitchenette, comfortable single beds and a separate bathroom with a shower base and WC. Each apartment has a satellite TV, WiFi and a small terrace. Long-term guests enjoy access to a laundry room. There is a free parking lot directly in front of the building.
The motel chain offers a total of 30 beds throughout Styria. As the rooms are rented on a self-catering basis, the restaurant Wirtshaus Folger-Zöhrer right next door is the perfect place for culinary delights or to quench one's thirst. Guests of Motel24seven also have access to a cozy lounge area with coffee and snack machines.
The digital reception desk
The apartments are bookable either online or directly on the premises using a self check-in system. There is a self check-in device, the digital reception desk as it were, located right at the entrance. This allows for simple and flexible checking in 24 hours a day, 365 days a year at any time of the day or night. Payment is either made in advance or by using a credit or debit card directly on site. A self-explanatory guidance system takes guests straight to the room they've booked. Motel24seven provides yet another point of intersection in the rental sector for those just passing through, business and leisure guests.
Motel24seven
Bruckerstraße 132
8600 Oberaich
This email address is being protected from spambots. You need JavaScript enabled to view it.
www.motel24seven.at