Guesthouse Malissa in the Center of Town
Two-star guesthouse directly on the main square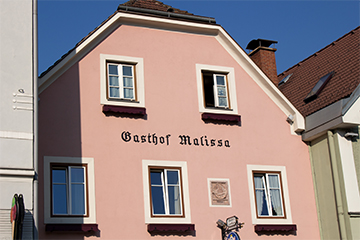 Bruck an der Mur, right in the heart of Styria, has become the place to be comfortable in the region. The modernized main square is one of the reasons Bruck continues to invite visitors and residents alike to linger and has become the meeting place for young and old.
Quality of living is a priority in Bruck an der Mur The charming city offers a cultural program to please every target group. A great variety of delightful events throughout the year, from one-off performances to regularly scheduled major events are a treat and a delight.
Thanks to the abundant and multifaceted calendar of events, its impressive history and the one-of-a-kind fascinating mixture of sights to see, the city of Bruck an der Mur has been attracting an increasing number of tourists. Tours of the city and many more attractions mean young and old are treated to a vast range of experiences. There are more and more hotels, guesthouses, lodging houses and apartments that benefit from offering accommodations that tourists are really able to enjoy. Including:
The two-star guesthouse Malissa is located in the center of Bruck an der Mur, directly on the main square. The kitchen serves traditional Styrian fare only. Birthday parties, family celebrations, baptisms and confirmation receptions, or just enjoying a nice, old-fashioned sit-down meal in pleasant surroundings, the Guesthouse Malissa is the place you want to be. The kitchen is open from 11:00 a.m. – 2:00 p.m. There are always two specials of the day. The inn has seating for 50 and an open-air dining area out front. Parking is no problem at all, since the establishment is located right across from the parking garage at Bruck's main square.
Guesthouse Malissa
Tel. +43 3862 51828
Koloman-Wallisch-Platz 9
8600 Bruck an der Mur