Conferences and seminars in Bruck an der Mur
Cultural and Conference Center
© City Bruck/Mur, picture: M. Meieregger
Bruck's Cultural Center (in Styria) can most certainly be considered one of the most significant venues for events of all kinds.
It is equipped with the most modern lighting, sound and media technology and provides excellent service.
Large screens, overhead projectors, video projectors, flipcharts as well as slide projectors are available in the halls.
The spacious ballroom, several adjoining areas such as the gallery or the Schlossberg Hall, the cinema, auditorium or the entrance area and the grand foyer, as well as the restaurant on site all combine to make this an excellent venue for conferences and seminars.
Catering can be adapted to suit the needs of the venue and the event.
Conference rooms/hall
Area
Seating
Ballroom
545 m²
420 + 170
(on the dance floor + in the balcony)
Gallery
350 m²
150
Schlossberg Hall
95 m²
90
Cinema and auditorium
300 m²
250

Kulturhaus Bruck an der Mur
Tel. +43 3862 51555 0
Fax +43 3862 51555 101
Stadtpark 1
8600 Bruck an der Mur
This email address is being protected from spambots. You need JavaScript enabled to view it.
www.kongress-bruckmur.at
****Hotel Landskron
© Hotel Landskron, picture: TüchiThe ****Hotel Landskron has a total of five seminar rooms and three rooms suitable for groups. It is situated directly on the River Mur and is only a few minutes' walk to the main square of the charming city of Bruck an der Mur.
Thanks to its cozy, peaceful and gracious atmosphere the hotel is the perfect choice for conferences and seminars.
The Hotel enhances the vista of Bruck an der Mur, complemented by the adjoining restaurant.
It ranks among the best in the Hochsteiermark region. The five seminar rooms are air-conditioned, with natural lighting during the day that makes working a pleasure. A large screen, overhead projector, TV and video/DVD players are available upon request and a catering service can also be individually provided.
| | | |
| --- | --- | --- |
| Conference rooms | Area | Seating |
| Confucius | 64 m² | 40 |
| Einstein | 69 m² | 40 |
| Strauss | 126 m² | 60 |
| Mozart | 66 m² | 40 |
| Strauss & Mozart | 192 m² | 95 |

****Hotel Landskron
Tel. +43 3862 58458 0
Fax +43 3862 58458 6
Am Schiffertor 3
8600 Bruck an der Mur
This email address is being protected from spambots. You need JavaScript enabled to view it.
www.hotel-landskron.at
Additional conference venues and event centers - INDOORS
JUFA Bruck/Weitental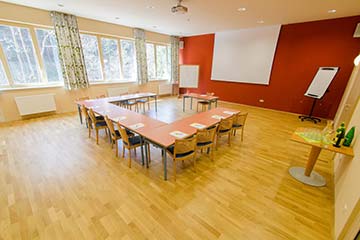 © Jufa Hotels
The Youth Hostel and Family Inn JUFA in Bruck an der Mur is the perfect location for conferences and seminars. It is situated in the Weitental recreational area and nature conservation center.
Weitental is located to the south of the historical trading town of Bruck an der Mur, a city with a high quality of life.
Just a few minutes' walk from the JUFA Hotel in Weitental to the pedestrian district in the middle of the old town. Two modernly equipped seminar rooms with panoramic views of the forest are the perfect venue for successful conferences and seminars.
| | | |
| --- | --- | --- |
| Conference rooms | Area | Seating |
| Confernce room 1 | 50 m² | 30 |
| Confernce room 2 | 120 m² | 90 |

JUFA Bruck / Weitental
Tel. +43 5 7083 370
Fax +43 5 7083 371
Stadtwaldstraße 1
8600 Bruck an der Mur
This email address is being protected from spambots. You need JavaScript enabled to view it.
www.jufahotels.com/hotel/bruck-an-der-mur
The Federal Economic Chamber Office in Bruck an der Mur
| | | |
| --- | --- | --- |
| Conference rooms/Hall | Area | Seating |
| Hochschwab Hall | 183 m² | 200 |

Tel. +43 316 6019800
An der Postwiese 4
8600 Bruck an der Mur
This email address is being protected from spambots. You need JavaScript enabled to view it.
www.wko.at/stmk/muerztal
Eduard Schwarz Building
| | | |
| --- | --- | --- |
| Conference rooms/Hall | Area | Seating |
| Banqueting hall | 260 m² | 300 |
| Small hall | 104 m² | 100 |

Tel. +43 3862 51069
Schillerstraße 22
Bruck an der Mur
Additional conference venues and event centers - OUTDOORS
© TV Bruck/Mur, picture: M. Maili


Main square
Castle Hill
Stadium at the Mur Island