Brandl Lodging House in Utschtal - Oberaich
Lodging house in the heart of the countryside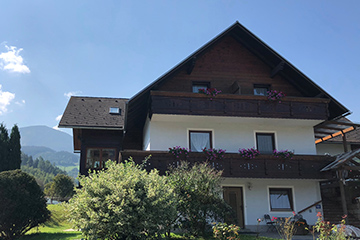 Located west of Bruck an der Mur in Oberaich the Brandl Lodging House is peacefully nestled between woods, meadows and fields.
A wide range of dishes and a pleasant climate invite you to hike, bike, or just simply relax. The highest point is Rosseck at 1,664m to the south. Madereck in the north is perfect for hiking or mountain biking. The River Mur Cycling Trail is not far away.
Oberaich is situated at an altitude of 500m. It is close to both Leoben to the west and Bruck an der Mur to the east, and is the perfect spot for rest and relaxation. You can enjoy life in the great outdoors or life on a farm; both are right next door.
Tourists have discovered the lodging house as well. It's just a short distance to the famous Roman Bridge in St. Dionysen, that is definitely worth visiting. The bridge is located in the city district of St. Dionysen, is in quite good condition and was presumably built by the Romans as a part of the route from Flavia Solva to the Noric main road.
Along with bike trails and interesting sights to see, Oberaich has plenty of hiking trails. However you plan to spend your time, there's something for everyone in Oberaich.
The Brandl Lodging House lets single and double rooms with a shower and WC. The rooms are equipped with a satellite TV, free wifi and balcony. There is plenty of parking and cash payment is requested.
Brandl Lodging House
Tel. +43 3862 51007
Tel. +43 664 73958595
Utschtal 66
8600 Oberaich
This email address is being protected from spambots. You need JavaScript enabled to view it.